Did you know that Amazon's marketplace is thriving despite the world facing economic challenges?
Based on insights from more than 2,000 Amazon sellers, 89% of them are profitable, even as rising costs create new hurdles.
In fact, some regions are seeing some extraordinary growth year on year:
The intricacies of Amazon FBA pallet requirements is essential knowledge if you're joining the world of Amazon selling
From weight considerations to precise labeling, understanding these guidelines is crucial for seamless FBA operations.
Let's dive in.
---
Does FBA require pallets?
When it comes to Amazon FBA, understanding the shipping requirements is crucial. So, do you need to use pallets for your shipments?
Yes, all FBA shipments must be delivered on pallets, except for some small parcel deliveries. Palletization makes handling goods easier and helps prevent misplacing cartons—adhering to Amazon's pallet guidelines is mandatory.
Let's look at it in more detail:
Pallet Usage for LTL (Less Than Truckload) Shipments:
LTL shipments consist of goods that don't fill an entire truck. Pallets are commonly used in LTL shipments to consolidate smaller packages, making handling and transportation more efficient.
LTL shipments is a very big industry – estimated to grow by over $100 billion by 2027.
Amazon's LTL model allows businesses to ship up to 12 pallets at a time, providing a cost-effective way to replenish stocks without the high costs of shipping trucks
Pallet Usage for FTL (Full Truckload) Shipments:
FTL shipments are used when you have enough goods to fill an entire truck. Pallets are typically required for FTL shipments to organize the goods and ensure safe transportation.
Pallet Usage for SPDs:
For Small Parcel Deliveries (SPDs), pallets are not typically required. These shipments usually consist of smaller packages that don't necessitate palletization.
SPDs have a limit of 200 boxes if you are using a partnered carrier and up to 500 boxes when using a non-partnered carrier
Why Pallets?: Pallets are used to ensure that goods are handled efficiently and securely. They're not just a logistical tool but a requirement for most FBA shipments.
And it's an industry also very much on this rise: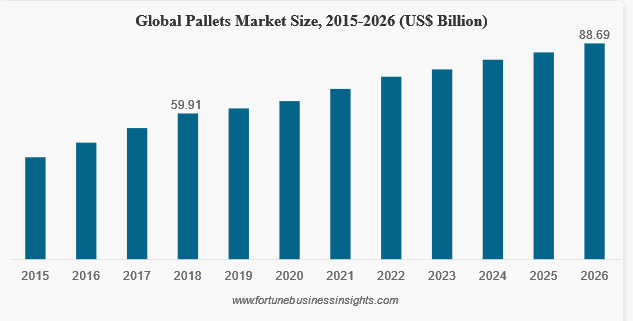 ---
What type of pallets you should use?
When shipping palletized freight through Amazon FBA, the choice of pallet plays a significant role in ensuring the safety and stability of the cargo.
The right pallet can make the difference between a smooth delivery and potential damage. Let's look at the specifics of what you need to consider:
Material
Wooden Pallets: Most commonly used, wooden pallets are sturdy and reliable. Amazon recommends 4-way entry wooden pallets, allowing forklifts wider access. These can be found in both GMA standard A or B grade pallets.
Alternative Materials: While not as common, other materials like triple-ply cardboard can be used if they meet the rigidity requirements. They must not bend, warp, or change form over time, as this could compromise the integrity of the shipment.
Size
Standard Dimensions: The regulations set by Amazon stipulate that pallets must measure 48 inches by 40 inches, conforming to the typical pallet width. If the freight is oversized, a broader pallet may be utilized.
Height Restrictions: Generally, pallets must not exceed 72 inches in height, including the pallet's own height. Special cases include pallets that comply with clamping guidelines (98 inches) and pallets that are stacked two high (100 inches).
Grade
Strong Materials: The pallet must support the entire weight of the load, so quality materials are crucial. Weak, broken, or damaged materials will reduce cargo protection.
Rigidity: Pallets should be rigid enough not to bend or warp over time. Amazon recommends using materials in good, usable condition—such as thicker triple-ply cardboard—to avoid compromising the shipment's integrity.
---
[thrive_leads id='51377′]
---
Step-by-step guide on how to label your Amazon FBA pallet
Labeling an Amazon FBA pallet is a vital step in the shipping process, and it requires careful attention to detail.
Here's how you navigate this essential FBA pallet task:
1 – Prepare the Labels:
Start by downloading the specific labels required for Amazon FBA shipments from your Amazon Seller Central account. These labels are designed to meet Amazon's strict requirements.
2 – Print the Labels:
Use a laser printer to ensure the labels are clear and smudge-free. The quality of the print must be high, with no faded or streaky lines, as this could lead to issues during the shipping process.
3 – Place the Labels:
Proper placement of the labels on the pallet is crucial. Here's how to do it:
Top Label: Position one label on the top-center of the pallet, ensuring it's visible and not obscured by any packaging or wrapping.
Side Labels: Affix labels on each of the four vertical sides of the pallet. They should be at least 1.25 inches from any edge and must not wrap around the corners.
4 – Use Proper Adhesive:
Select a clear plastic pouch or packing tape specifically designed for shipping labels. This will ensure that the label remains secure and that no information is covered.
5 – Include Shipment ID:
Each pallet must have a unique Shipment ID label. This label is essential for tracking your shipment, so it must not be overlooked.
6 – Double-Check Everything:
Before finalizing the pallet, carefully review all the labels. Confirm that they are in the correct locations, securely attached, and that all information is accurate. This final review can prevent potential issues during shipping.
---
How to palletize your first shipment
In order:
Select Inventory:
Choose the address you're sending from and the Amazon fulfillment center destination.
Choose the inventory you want to ship using Amazon's Fulfillment by Amazon stock-keeping unit list.
Pack Boxes:
Place your items into boxes and provide Amazon with information such as item contents, box weight, and dimensions.
Shipping Method:
Verify the details of your shipment, such as the date of shipping and the method of transport.
For pallet shipments, select the less than truckload (LTL) as the shipping mode.
Pallet Loading Guidelines:
Start by placing the heavier items on the bottom, followed by stacking the items of lesser weight above them.
Distribute the freight uniformly across the pallets, avoiding pyramid-like structures or overhanging boxes.
Dimensions of Amazon Pallets:
Adhere to Amazon's strict rules regarding pallet dimensions: 40 by 48 inches, no higher than 72 inches.
Secure and Wrap Pallets:
Ensure that the freight can stand on its own before wrapping.
Use see through plastic stretch wrap to secure the freight, starting from the base of the pallet and working your way to the top.
Labeling:
For every box, generate and print an FBA box ID label.
On each side of the pallet, affix four shipping labels, positioning them upright and squarely.
Confirming the Carrier:
Confirm with Amazon who your carrier is and provide information about your pallet.
---
What to do when your pallet is rejected by the Amazon warehouse?
A rejected pallet at Amazon's warehouse can feel like a stumbling block—but it's not the end of the road.
In order, you should:
Investigate the reason
Contact Amazon Support
Review guidelines
Make necessary corrections, and
Reschedule the shipment.
The most important step of these is to reach out to Amazon's Seller Support to discuss the rejection and seek guidance on what to do next. They can provide specific instructions tailored to your situation.
Embrace the experience as a learning opportunity, and you'll be back on track in no time.
---
Wrapping Up
Navigating Amazon's FBA pallet requirements is a crucial step in your selling journey.
From understanding the types of pallets to use, to the meticulous process of labeling, each detail plays a vital role in ensuring a smooth shipping experience.
If you're looking to expand your knowledge further, these Amazon FBA tips might be your next stop. And if you're ready to take your business to the next level, consider exploring our Amazon FBA due diligence services.