If you are just starting out your eCommerce journey and planning on selling products on Amazon or even your own online shop, you may be afraid to purchase abroad. Or you may not know customs when emailing a supplier or vendor like for example in China. Having communication with suppliers in China on a daily basis I decided to create an in-depth guide for you on how to effectively email and communicate with your supplier or vendor overseas.
Even if you are talking to supplier on Alibaba for example, this communication template may come in handy. So lets dive in.
Disclaimer: Some of the products may contain an affiliate link and we may make a commission if you click on it at no additional costs to you.
FIRST CONTACT
Assuming you have found a supplier already it is time to contact them. (HERE is a complete guide how to safely find a supplier on Alibaba) Once you have settled on a supplier for your new product you may want to prepare yourself a little bit first and have a communications template ready that you can send to more than one supplier.
Introduce yourself to each supplier professionally. When I first contact a supplier it usually looks like this. You can copy this section and use it for your first contact:
Dear…,
My name is ….. and I am the (Manager/President/Buyer etc.) of ….
Limited/Inc. We are a (fill in your company's business, e.g., Importer/Buying Office/Whole seller/Online shop) and are operating in (fill in your country).
You can also check out our website under: www. …..
I am writing to you today to inquire about the product I saw on your
website/catalogue/exhibition.
The model number is….
Could you please give me the following information: You can fill in the details in the attached quotation format or send me your quotation in the first step.
Unit price based on…. Pieces
Minimum Order Quantity
Available certification (CE, RoHS, FCC, GS, etc.)
Production lead-time
Available colors
Payment terms
I would then evaluate and get back to you as soon as possible.
If you have any questions please don't hesitate to contact me.
Thanks and best regards,
TAKING WORK OFF THE SUPPLIERS SHOULDER
Note how I already prepare the model number for them? This is to make it easier for the supplier. Normally they would have hundreds of products on their website/Alibaba profile. So if I would just email them and say: "I am interested in your coffee mug", they might get confused as they may have more than 1 model. So I save us both time by mentioning the actual model number displayed on their site.
Also if you note I send them an Excel quotation sheet that I have prepared. I call it my shopping list. It helps me to sort things easier. I do this because if you email 15-20 suppliers you may get different offer sheets from each supplier back. Now in many cases the suppliers send their own format of offer, but 50% of all the suppliers fill in my own file. This really helps me to compare the offers apple with apple.
The file may looks something like this: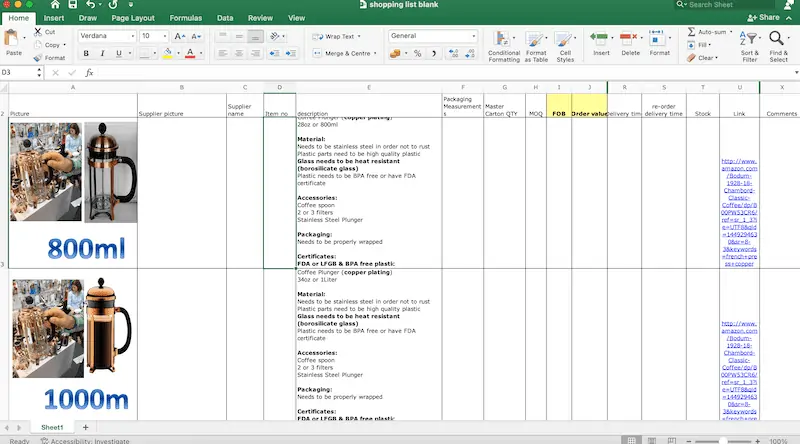 You will see that I've pre-filled most of the information already to make it as easy as possible for the supplier. All he needs to do is to fill in:
Supplier name
Item no (this is a blank version, otherwise I would fill it in)
Packaging Measurement
Master Carton Quantity
Minimum Order Quantity (MOQ)
FOB (price)
Delivery Time
Any stock?
And possible gross & net weight
RINSE & REPEAT
Do this step with multiple suppliers, because it's never good when you start to rely on just one supplier. Do not mention that this is your first time contacting suppliers on Alibaba. It will probably give you a disadvantage in negotiating at a later point.
For easier reference and keeping track of your offers and suppliers I recommend making yourself a folder on your desktop. Name it "Alibaba" or "Sourcing" or anything that you can relate to easily. Create subfolders for each supplier. In each subfolder create folders such as: "quotation," "supplier profile," "certificates," and so on.
Also, I have found that some suppliers don't read your full email. So point out the model number that you are interested in and ask them to quote specifically.
Sometimes you will receive a simple email back with a PDF catalogue asking which item you are interested in. It can be exasperating but that's the way it is sometimes. Politely reply back that you are "looking for a specific quote on model number…"
You don't necessarily have to use these forms for contacting the supplier for the first time. Many will actually not fill it in because it obviously takes time to do so. HOWEVER, I recommend if you have narrowed down your suppliers you should ask them to fill it in for your records. Keeping clean records is crucial to your follow-up.
ASK QUESTIONS AND FOLLOW UP
As you begin narrowing down suppliers make sure to ask a lot of questions about their business and their products: Ask for a copy of their business license and company and factory standards (for example ISO-9001)
Ask which laboratories / third party companies they work with. If they only work with Chinese test or inspection companies be cautious. Ask for photos of the factory or company presentation (PDF/PowerPoint) and sample products.
Feel free to ask for whatever makes you feel more comfortable doing business with them. Ask who their customers are and where they are located. If they don't have any customers in your country be careful, as they might have no experience dealing with your country's regulations and standards.
Ask about them. If they already work with a competitor of yours or with an industry similar to yours it's a good sign that they can fulfill your requirements.
Send a vendor profile so they can fill in their details. They should cover production capability, how many workers / staff / engineers, main customers,
certifications, company turnover, etc.. A vendor profile could look something like this:
GET SAMPLES
It should go without saying that before you invest any significant amount of money into inventory you need to get samples to check and verify quality. I've prepared a detailed guide on how to order samples HERE.
SOUNDS FISHY!
Finally, if something is too good to be true, it usually is. Be aware of prices, suspicious payments, or communication that doesn't seem right. It's never too late to simply cease communication and look for another supplier. Tip: When asking your questions and formatting your emails to suppliers it's best to work with paragraphs or bullet lists of requests so that it is easy for them to understand your requirements and needs. Make the supplier answer each of your "bullet-questions."
NEGOTIATING
Once you have begun conversations with multiple suppliers and have a good idea about their prices, MOQ's, and payment terms, you can begin negotiating with them. Here are some tips on negotiating:
It is a given that once you place your order you negotiate the price, whether you are below the supplier's MOQ or not. Use the price that you were originally quoted and decrease it by 20%. Give this target price to the factory and let them know you would like to order with your (20% reduced) price.
In most cases, the supplier will not agree to your new target price but he may reduce it by another 5%. In 80% of cases he will give you a further reduction on his original quoted price, unless your quantity is really very low. Also, mention to him that this will be the first trial order and that if it is successful larger orders will follow.
Also, it is quite common that the supplier will send you a price based on a certain order quantity. Say 10USD for a quantity of 1,000 pieces. Sometimes suppliers will give you 2-3 different prices for different quantities.
If you are planning to order an item, you should have a general idea of how to negotiate when you ask your supplier for a quote. DOUBLE (2,000) or even TRIPLE (3,000) this expected order quantity when asking for a price. It's a tactic I use to see what the price range can be.
If I actually order this item later at the quoted price but I am below the requested MOQ of the supplier I will pledge with the supplier to keep the price so that we can get started.
I will also mention that it will be a trial order and if everything goes well I will order the initial MOQ that the price was based on.
Perhaps the supplier will not give you the price based on your 1,000 pieces but he will give you the price based on 2,000 pieces to show his support. This works in most cases. A supplier always will want to support you because they need to feed their factories with orders, even if they t make less profit, just to keep production running and to be cost effective.
WEIGHING YOUR OPTIONS
Once you've narrowed it down to a select few suppliers, you'll want to weigh all your options. Bear in mind it's not always about the price and MOQ. It's also a gut feeling that you should get when communicating with a supplier. Did he reply eagerly and quickly? Did he follow up in detail or just send fragments to your questions?
If you have the feeling it's difficult now to communicate, imagine how it would be to work with him once the order is placed. Make sure you eliminate the suppliers with the least potential and the most issues now!