In this issue of the Amazon FBA deep-dive, we are analyzing a Chinese FBA brand. As many FBA sellers know, Chinese sellers represent one of the biggest threats to existing and new Amazon FBA brands.
In fact, a recent poll of all FBA sellers revealed that more than 50% of sellers on Amazon were Chinese. Typically they will come into a category undercutting prices and driving overall margins down.
However – is there still a way to win against this type of seller on Amazon.com? We analyze all of the weaknesses in this specific Chinese FBA brand in our deep dive below.
The learnings below are applicable to all FBA sellers competing against foreign competition.
This is what we cover in this deep dive:
Business Summary
Highlights
Setbacks
Ways to improve this brand
What is the exit valuation of this brand?
Actionable takeaways
Let's get into it!
---
The WAOAW Sleep Mask Brand Overview
The core sleep mask listing for WAOAW was started on June 25, 2021 and it quickly accumulated more than 4,700 reviews in under 2 years.
Today, they are estimated to be doing $110,214 in monthly revenue with their core listing.
✅ Highlights
Strong review structure and rating (4.6 stars with 4,700+ reviews)
Category leader on Amazon
❌ Setbacks
Little to no brand protection
Poor branding & differentiation
---
3 Distinct Ways to Improve the WAOAW Brand
There are opportunities to significantly grow and differentiate this brand. We break down the following wins:
Use real customer avatars as models
Create an emotional connection with customers
Use Sponsored Brand videos
Let's get into it!
➡️ Win #1: Use real customer avatars as models
On Amazon, you used to be able to get away with photoshopping your product on stock photos of models. From 2016-2020, this worked but the game is different in 2023.
For people starting an FBA brand in 2023, knowing your customer avatar and catering specifically to them is key.
Look through the reviews of all of the sleep masks on Amazon. Who is buying these and why? Showcase real people in real situations with your sleep mask. This will increase the conversion rate and convince more people to buy.
Looking at the reviews, we can see the customer avatar for a sleep mask is:
People in hotel rooms
people on long flights
people with CPAP masks
people with evening shifts
Of these, I would focus all of the images on one customer avatar and frame this as the BEST sleep mask for people with CPAP masks. That's how you stand out from competition (and charge a higher price).
➡️ Win #2: Create an emotional connection with consumers
One thing many FBA brands fail to do is create an emotional connection with consumers. Why should somebody buy from you instead of a lower priced brand?
You do NOT want to compete on price in Amazon FBA.
Creating an emotional connection is one of the best ways to maintain a higher price point on Amazon – despite increasing competition.
WAOAW does a terrible job of creating an emotional connection. Let's compare and contrast their images with a premium brand on Amazon.
WAOAW retails for $16.99 and Drowsy retails for $79. Which product would you rather sell? Look through the listing images of both versions to feel the difference.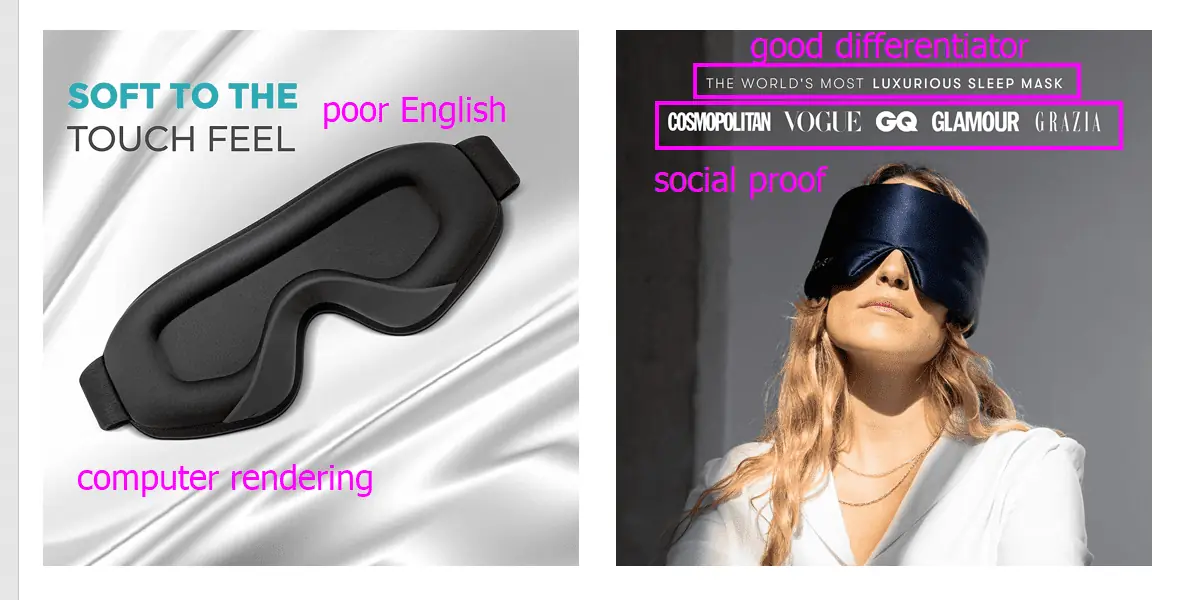 ➡️ Win #3: Use Sponsored Brand Videos for additional branding
WAOAW currently has 4 videos on their listing. The opening screen for the first video is shown below. You can see the packaging, poor English on the front, and the general look of the brand from it.
The video is mostly still shots with some minor animation and text overlays. In comparison, Drowsy (shown below) uses premium models (modeled after their customer avatar – affluent older aged women) to entice customers to click and convert.
I can assure you – without seeing the metrics behind these videos – the Drowsy one has a higher click through rate and conversion rate.
Some tips for improving your Sponsored Brand Videos
Use quick action shots in the first 3 seconds – draw the readers attention with quick cuts (similar to Facebook ads)
Use text overlays – sound is off by default and very few (<5%) unmute the video
Optimize for a 15 – 30 second length. Aim to have action every 2-3 seconds to keep viewers engaged.
---
How Much is WAOAW Sleep Masks Worth?
This analysis is a little of a trick question because how much something is worth is only determined by how much somebody is willing to pay for it.
And nobody is buying a brand like WAOAW.
However, they are buying brands like Drowsy Sleep Mask. Drowsy is estimated to be doing $86,663 in revenue/month which equates to $1,039,956 in annual revenue.
Given the high price point and premium branding, the net margin on this product is most likely 30%. Assuming that, gives us an annual profit of $311,986.
---
2 Actionable Takeaways
Here are actionable takeaways that you can apply to your business today:
You do not want to compete on price in Amazon FBA. Establish a premium brand and use it throughout all of your listing photos and videos.
Staying ahead of competition requires creativity – what is one thing you could do to stand out? Make your product the best at one thing – so it can't be compared to others on price.