I recently asked in ImportDojo's Facebook group what topics you would like me to cover on my next blog post and I listened.
So here goes, below is an overview on how you can improve your packaging and beat the competition.
Before you read on, I previously posted on packagings in general and you may want to read this post too here: https://importdojo.com/private-labels-packaging-differences/
But today I want to look into six different topics when it comes to packaging:
1) Why is a good packaging necessary
2) What differences are there in materials and what is the ideal material?
3) Simple things that greatly improve your packaging
4) Why is it so difficult to get a manufacturer print low quantites of packagings?
5) Great packaging examples (low and high cost)
6) Conclusion and where should I start?
So let's dive right in:
Disclaimer: Some of the products may contain an affiliate link and we may make a commission if you click on it at no additional costs to you.
WHY IS A GOOD PACKAGING NECESSARY?
A great packaging adds value to the product. Think of Apple's packaging. Have you ever bought a product from Apple and holding the packaging in hand thinking: "that's a nice packaging, it adds value to the product and is therefore one of the reasons I bought this product"?When I bought my first iPhone I actually kept the packaging until today (that was 2012). I even still keep the packaging of my Macbook Air because if I ever want to sell it the packaging adds value and I can get a higher price.
There is a saying in German (my native language) in the retail industry. "Eine gute Verpackung ist die halbe Miete" which litearlly means, "a good packaging is half the rent" or if you have a good packaging its "half the battle".No matter if you are selling online or physically at a store the packaging is the first thing your customers sees when he is exposed to your product.It certainly applies more to retail than when selling online because the potential customer can see the packaging. The first thing a potential customers sees online are the pictures in your listing but a good packaging still applies, I ll get to that in a little bit.
Protection. You will want your product to be packed well. Your product goes trough six different logistics cycles before it reaches the customer:
Packed in mass-production
Picked up by the logistics company sent by Air or Sea
Received in the US and unloaded from the ship or plane
Transported to Amazon
Ordered by customer, picked and packed by Amazon
picked up carrier (UPS etc.) and delivered to you
Imagine this being your shipment: https://www.youtube.com/watch?v=qJdZgQwRMBk
Now don't worry, that usually never happens, I guess he had a bad day
However there's a lot of people and hands handling your product and you'll certainly want your box to arrive in perfect condition when the customer receives it.
How often have you read on Amazon reviews "product received damaged". Thats one bad review you can avoid.
WHAT DIFFERENCES ARE THERE IN MATERIALS AND WHAT IS THE IDEAL MATERIAL?
It is quite simple actually, I give my suppliers usually the requirement to pack products directly in a b-flute (e-flute is acceptable for light and simple products) and the gift boxes must be packed in a minimum c-flute cardboard.
A double wall (C&B flute) would be preferred but c-flute is accepted.
Here are the standard cardboards available:
A) Coroplast
B) Chip Board
C) e-Flute
D) b-Flute
E) c-Flute (standard)
F) Double Wall (c&b Flute)
G) Triple Wall
Rating:
Cardboard boxes (Corrugated Fiberboard) are rated by an industry standard known as the ECT (Edge Crush Test).
This indicates the pounds per square inch the board standing on edge can withstand.
A standard moving box (c-flute) has a rating of 32 pounds per square inch before crushing, therefore would have a 32 ECT rating.
Ratings You Can Choose Or Indicate To Your Supplier:
No Test – really light
26 ECT – light
32 ECT – standard
44 ECT – Strong
Double Wall
Triple Wall
Still not sure what you should use and what applies to the weight of your cartons? See below illustration referencing the carton strength to the total weight of each carton: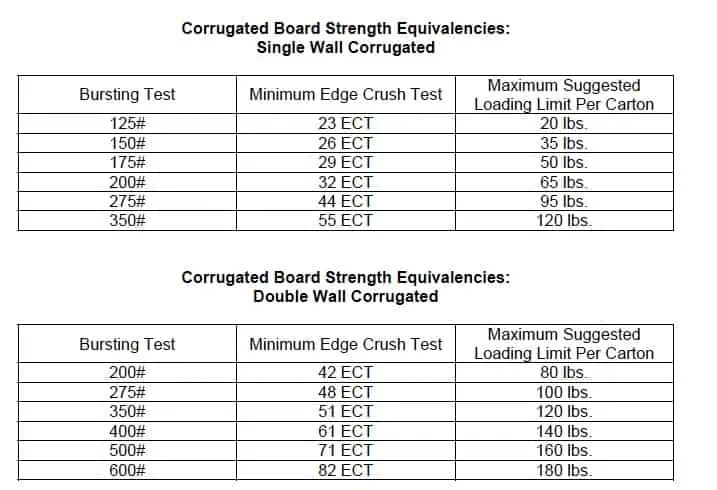 SIMPLE THINGS THAT IMPROVE YOUR PACKAGING
UV coating. I use UV coating for most of my packagings. It gives the logo or text you want UV-coated a nice 3D effect and feels great when having it in hand
Fun facts. I add "Nutrition facts" onto my packaging even they aren't of any food nature. I sure add all technical description in there but I will also add a few "fun facts" making my product "hip".
Don't over-confuse with a lot of text and keep things simple. Rather use pictograms as per below examples. Instead of boring wording I use pictograms that describe functions of the product.
WHY IS IT SO DIFFICULT TO GET A MANUFACTURER PRINT LOW QUANTITIES OF PACKAGINGS?
Printing a packaging (color box) requires to create a so called printing film for the printing factory. Do not be confused, your supplier outsources this job to a separate printing factory.
I have yet to come across a supplier who also prints his packaging. That means that your supplier has no control over the minimum amount of pieces needed to be printed. This amount is determined from the printing factory.
Some printing factories offer from 500-800 pieces while some printing factories require at least a 1000 pieces per item/color. It is often useless to argue with your supplier to find another printing factory because they have running contracts with those printing factories that guarantee them consistent quality and low prices. So he won't jeopardise his relationship because I the new buyer need 300 pieces of a color box.
However there are some printing factories who specialise in helping small time buyers to print lower quantities. Costs will be higher though. 
[thrive_leads id='51377′]
GREAT PACKAGING EXAMPLES:
I recently travelled to Vietnam. Vietnam is known for its food and vietnamese coffee. I am avid coffee lover and I definitely wanted to bring back a coffee from Vietnam. So I went to a couple of stores and looked for coffee. I got myself a pack of Kopi Luwak coffee. If you don't know Kopi Luwak check out Wikipedia https://en.wikipedia.org/wiki/Kopi_Luwak its quite special.
But thats not the point of the story, while browsing for coffee one product and packaging really caught my eyes. It's a tea packed in bamboo packaging. Vietnam is also known for its bamboo products. While I don't really drink tea I bought the product even I didn't really need it. Why? Because the packaging sold me the tea. Have a look at the packaging picture: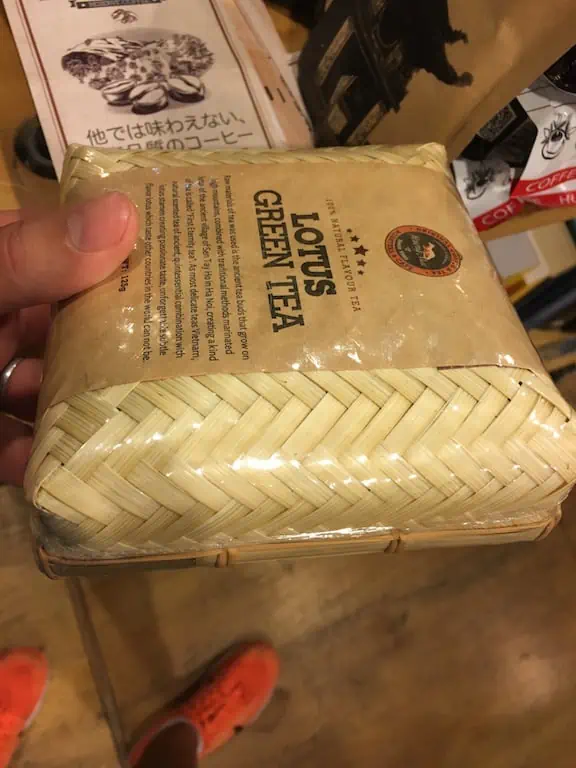 I really like the use of Bamboo here, not your every day packaging. This option is certainly more expensive but it sold me!
Simple packagings that are great and cheap. When you have a product that doesn't need a fancy packaging because it is an every day use item you can save a lot of money and still have a decent packaging.
This is also extremely helpful if your suppliers gives you a high order quantity for packagings. I recently ordered a product from Amazon (as the Merchant) and when I received the packaging I was quite surprised at the simplicity but effectiveness of the packaging. No fancy packaging needed because it was just an iPhone charging cable.
This packaging is a simple but padded envelope and great for cables, rubber, plastic items and things that won't easily break.
There is a campaign running right now from Lays Thailand (potato chips). The campaign says, post a picture of yourself on Instagram, tag the company and the product and maybe win xxxxx$. Not only do they have a great packaging but the customers are doing all their marketing for them. Have a look so you'll see what I mean.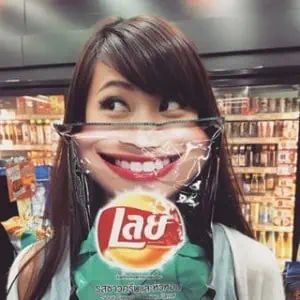 That Lays marketing campaign is brilliant. Engage with your customers on your packaging. Add a insert card or a link to your website and create a challenge, maybe even similar to above and you'll get "free" exposure to your product and brand.
Try to think outside the box and think of little things that can improve your packaging but have a big marketing effect.
If you are looking for more ideas, simply Google "Great packaging ideas" and browse trough the various search results. Find something you like? Speak to your supplier and see if he is willing to help on your packaging idea.
CONCLUSION AND WHERE DO I START?
So where do you start? I would say that your packaging should :
A: reflect the product inside
B: something that the product is affiliated with – a brand or a quality seal
Examples:
Reflecting the product inside:
1) Cigars are often packed in wooden boxes because they resemble a humidor.
2) Great example of Nike's Air products. The product is actually packed in a bag of Air.
Something that the product is affiliated with or a quality/brand seal:
B: Swiss products usually have the white cross in the red circle (the country's flag) on products because the Swiss are proud of their country and quality of their products. I have often seen cosmetics in department stores that have the Swiss flag on them with some wording like "Swiss formula" or "Swiss made". It creates trust in the potential customer because people know or think that Swiss products must be good. Check out below examples:
Ok, lets wrap it up. I am not saying that you should apply all these things on your very first packaging. Because a few of the above examples can become quite costly, especially if you have low quantities.
Try to start with a simple white box, put your logo & labels/barcodes on it and when you are ready to place larger orders improve your packaging by applying some of the techniques and suggestions above.
Now you may ask yourself why is it important to have a nice packaging for an online or fulfilment business? After all the customers doesn't see the packaging when ordering online?
Well for all of the above reasons and your customer will greatly appreciate to get the product in a well packaged box plus it will increase the chance of getting a great review. You may also want to think ling term that your brand eventually becomes recognised and you want to deal with retailers or supermarkets to have your products also offline!
I hope this gives you an overview and I look forward to your comments. Please like and share if you found the post helpful.
All the best and happy sourcing.